Regular price
$529.00 USD
Regular price
Sale price
$529.00 USD
Unit price
per
Sale
Sold out
Piercing Banane with Citrine Heart

We craft this beautiful Piercing Banane with a stunning Citrine heart in our Goldsmith workshop using 750/000 gold. The Citrine gemstone exhibits a lovely yellow hue and harmoniously blends into the golden pendant, creating a perfect color composition.

Details of this piercing:

- Material: Gold 750/000 (Available in Yellow Gold, White Gold, or Rose Gold upon request)
- Gemstone: Citrine (yellow variety from the Quartz group)
- Type: Piercing Banane
- Optional with counter ball
- Bar thickness: 1.6 mm (customizable upon request)
- Bar length: Custom-made according to your specifications, example shown is 12 mm

Materials used in the Piercing Banane with Citrine Heart:

This piece is crafted from 18-karat Gold (750/000). Additionally, we can create the jewelry in White Gold or Rose Gold as per your preference.
The Citrine is a yellow variety of Quartz, exhibiting a beautiful golden-yellow color. It has a Mohs hardness of 7 and a density of 2.65.
The stone is faceted into the shape of a heart.

Construction of the Piercing Banane with Citrine Heart:

This piercing is designed as a Piercing Banane, making it ideal for a Belly Button Piercing or, for example, a vertical clitoral hood piercing. The curve and length of the bar can be customized to your specifications. If you need balls in different sizes or a different bar length, please contact us via email or through our contact form, and we will be happy to assist you or provide you with a quote.

The heart-shaped Citrine is set in a closed setting, providing excellent protection for the gemstone and minimizing the risk of snagging on the setting.

You can choose to order the piercing with or without a counter ball. If you opt for the counter ball, you can select between sizes of 4 mm, 5 mm, or 6 mm. The ball is also made of 18-karat Gold (750/000) and features a 1.6 mm threaded hole.
View full details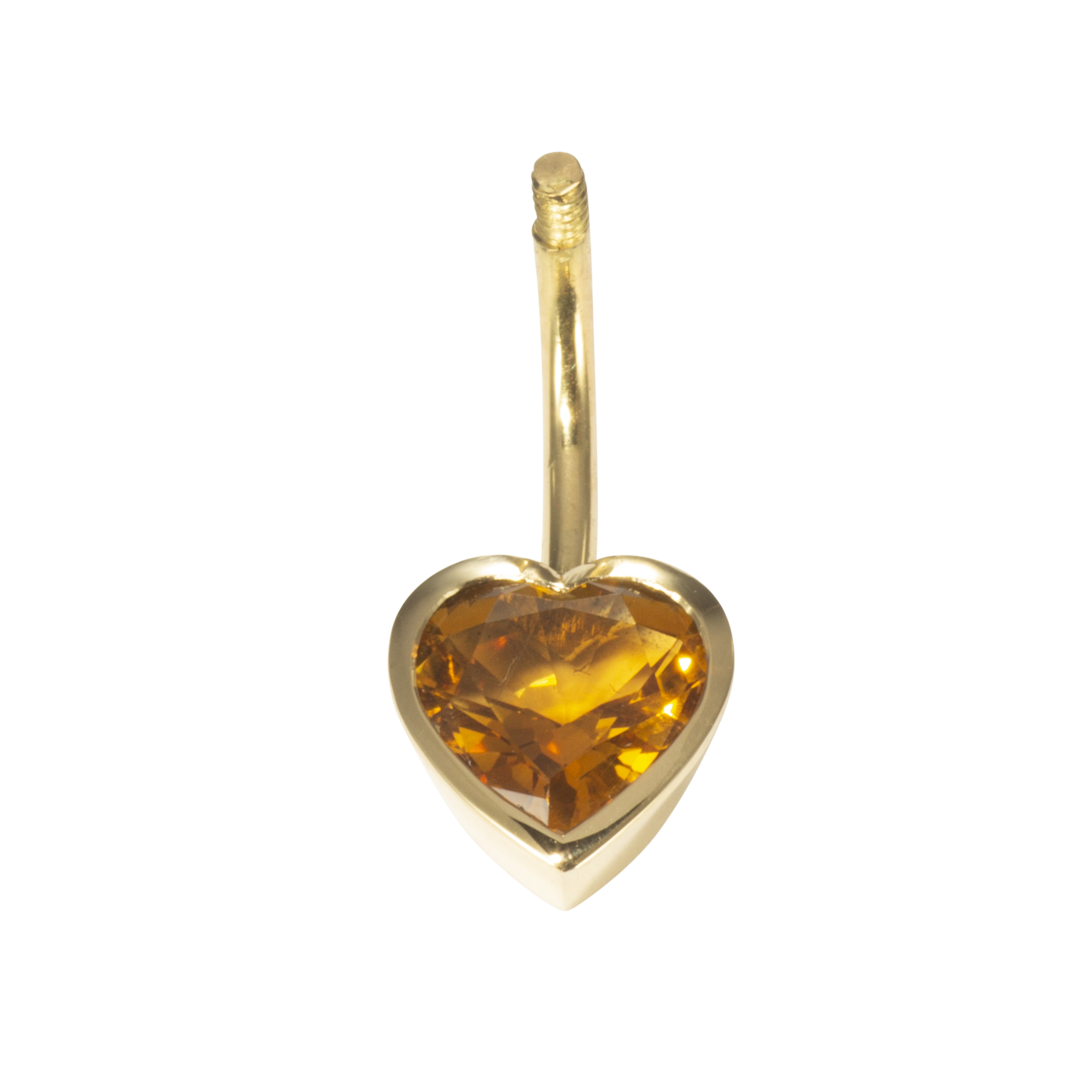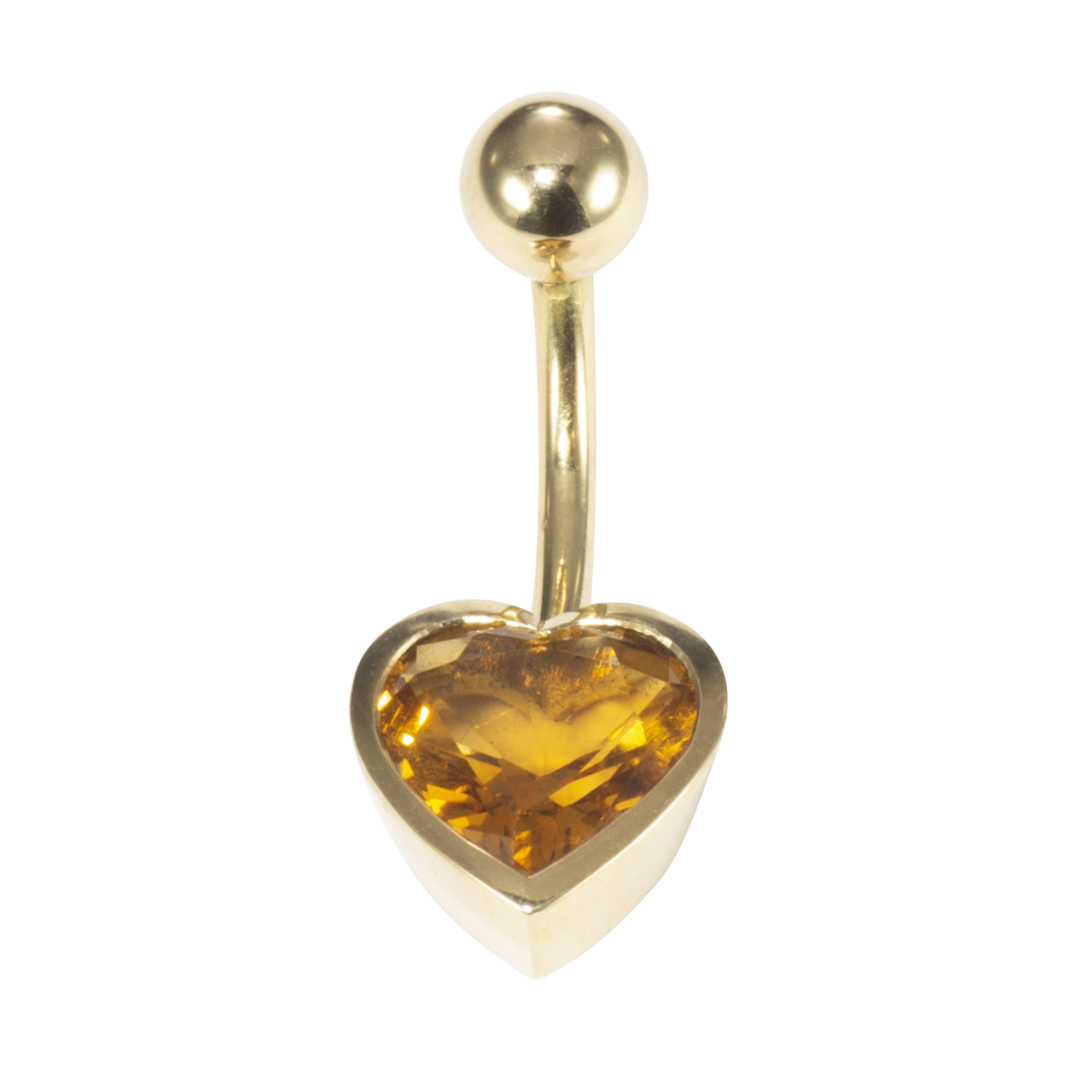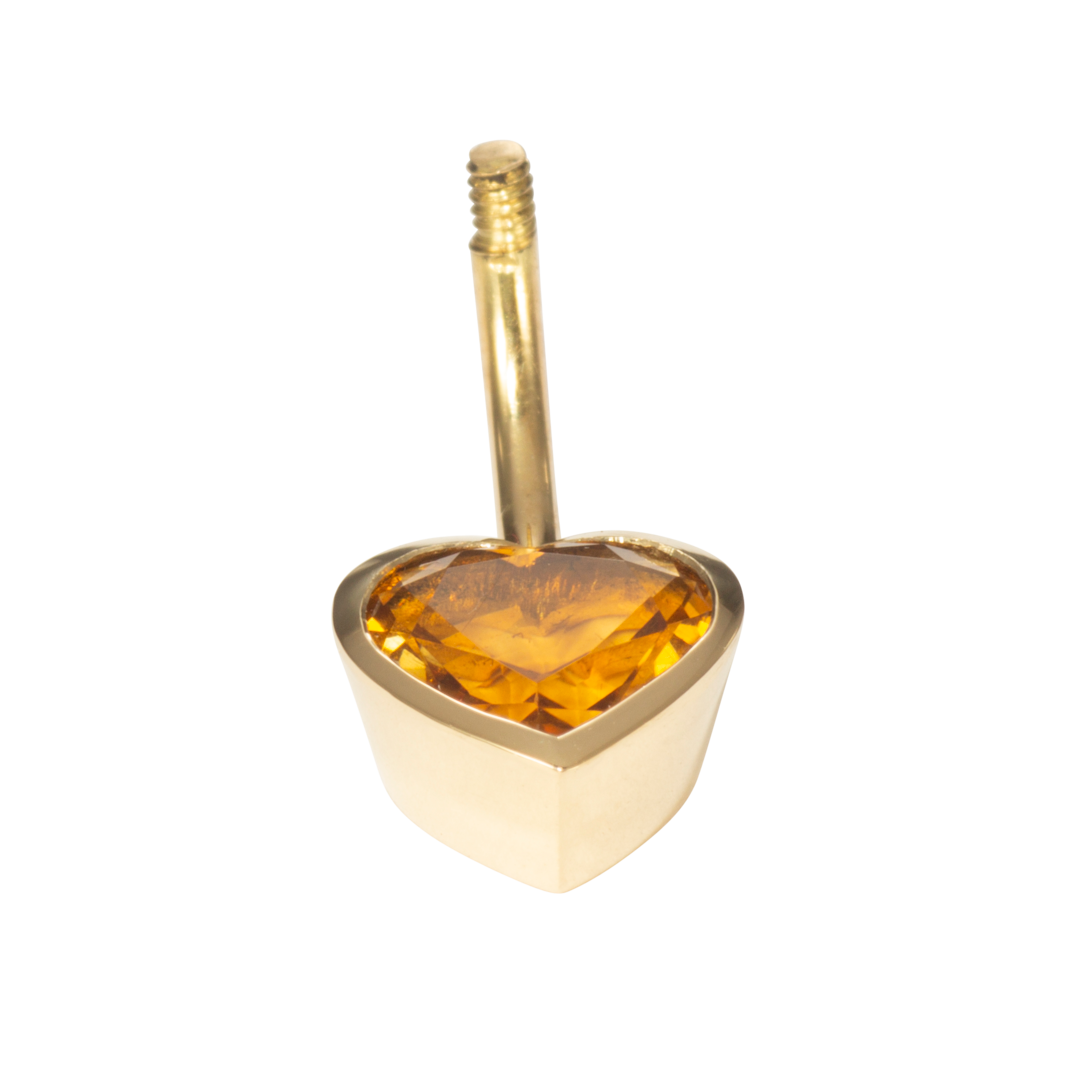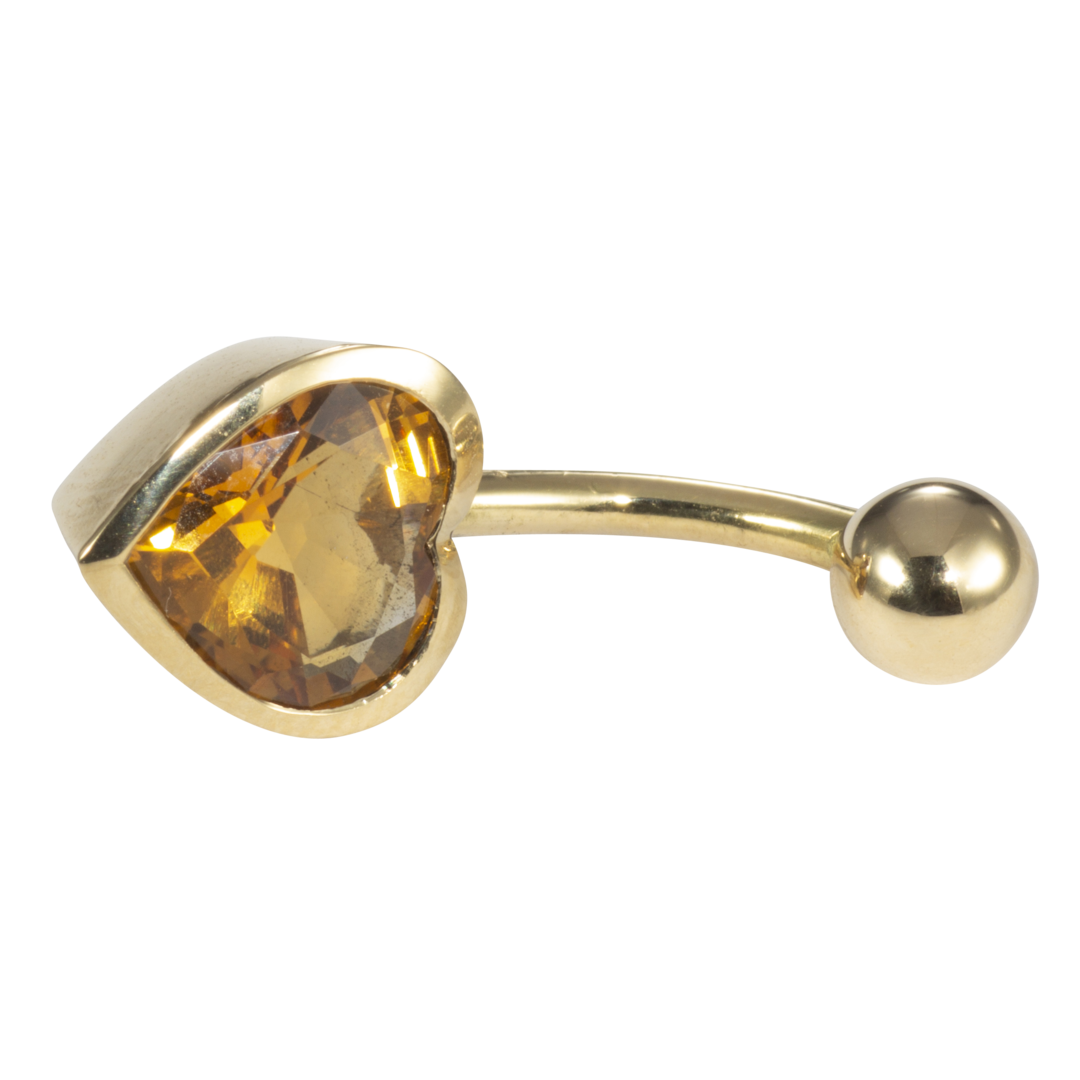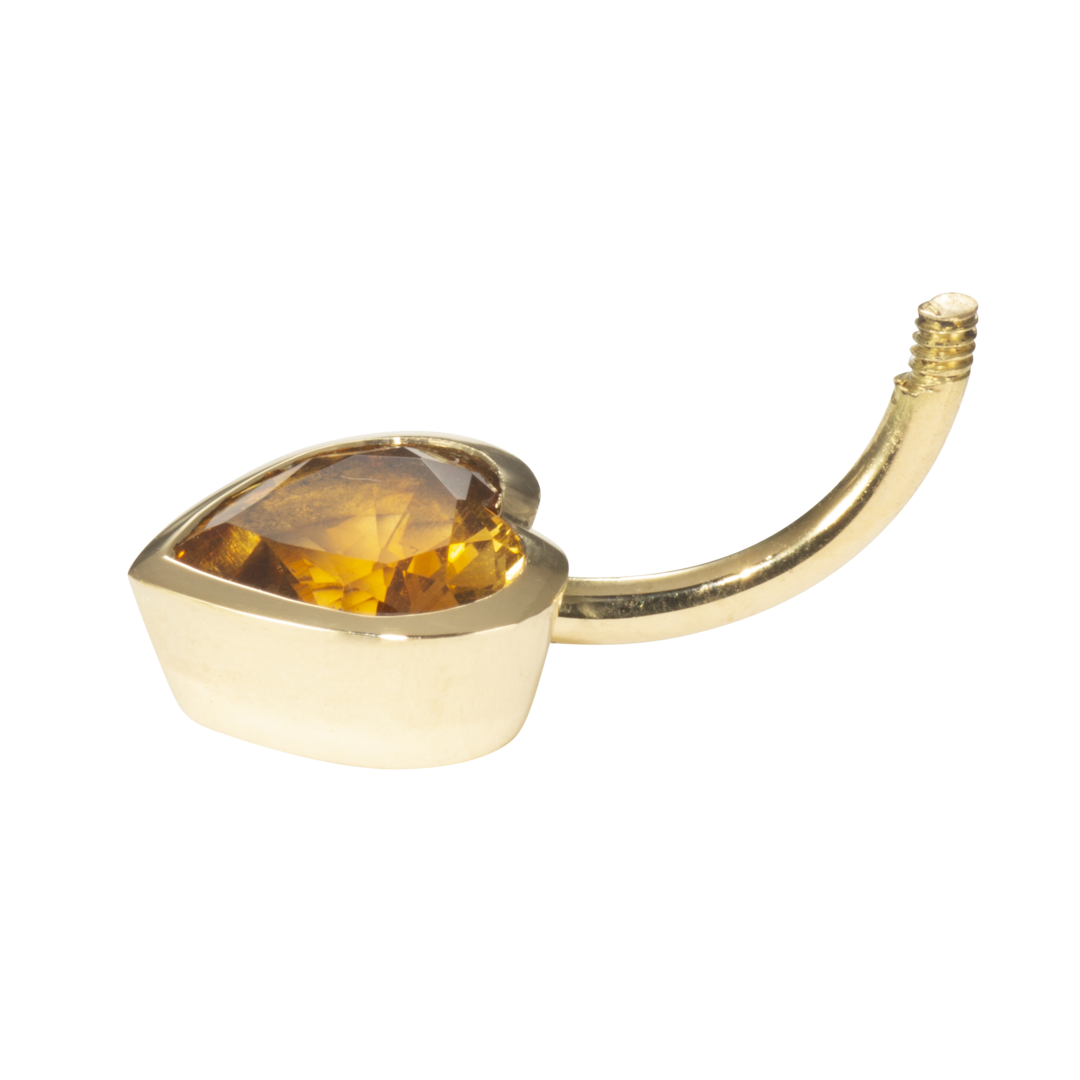 Sie haben Ihr Wunsch-Schmuckstück im Kopf? Oder Sie wollen ein Detail geändert haben?
Kein Problem - sprechen Sie mit uns. Wir realisieren regelmäßig -auch gerne ausgefallene - Ideen rund ums Thema Piercing & Schmuck! Bitte kontaktieren Sie uns - wir rufen zurück! Auch unter der Telefon-Nummer +49 8682 7693 erreichen Sie uns persönlich!